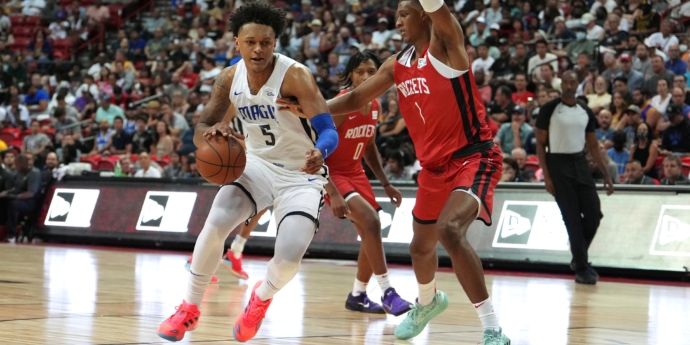 Orlando Magic rookie Paolo Banchero and Oklahoma City Thunder rookie Chet Holmgren haven't played in a real NBA game yet, but they're already proving they can move the needle among basketball fans.
Recently, when Banchero and Holmgren teamed up at The Crawsover in Seattle, a ton of fans filled the gym or tuned in to the pro-am's NBA livestream.
Paulo Banchero (@Pp_doesit) and Chet Holmgren (@ChetHolmgren) put on a show at @thecrawsover!@TheTraeYoung,
@DejounteMurray,
@jcollins20_,
@isaiahthomas
and others play on Sunday afternoons! 👀 pic.twitter.com/IqtKekhgwI

—Alex Kennedy (@AlexKennedyNBA)
July 31, 2022
The top two picks in the 2022 NBA Draft have also shown they can influence consumers.
In his NBA Summer League debut, Holmgren dominated in a pair of Nike KD 15s – finishing with 23 points, 7 rebounds, 6 blocks and 4 assists in under 24 minutes. Kevin Durant shouted it out and added "I love kicks". Over the next three weeks (June 21 to July 12), there was an 87% spike in eBay searches for KD 15s.
I see you cooking 7. The first day of work was a success, I love the kicks @ChetHolmgren
https://t.co/sQrgDpPCU0

—Kevin Durant (@KDTrey5)
July 6, 2022
Banchero also turned heads with his game in Las Vegas, and fans noticed he was wearing a pair of adidas Exhibit As. Over the next week, sneakers worn by Banchero saw a 30% increase. searches on eBay. Banchero was a sneaker free agent at the time, but recently signed a deal with Jordan Brand.
We didn't get to see Banchero take on Holmgren during Summer League, so fans are understandably excited to see them go head-to-head when the Magic take on the Thunder this season.